The New Hybrid Neighborhood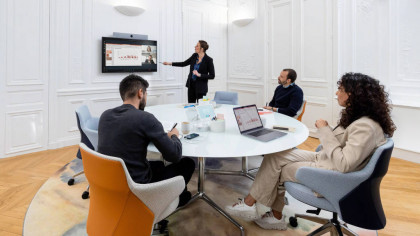 Despite employers' best efforts to entice everyone back to the office with free snacks and fun events, people are dragging their feet. Their reluctance isn't about COVID: If you look at the data, far more people have been to a restaurant, movie theater or traveled on an airplane than who've gone to the office, according to the Kastle Back to Work Barometer. People's resistance doesn't seem to be about flexible work either. Hybrid work has been embraced by 71% of global leaders giving people the option to work two-to-three days from home or other locations.
Theories about why they're hesitant to return to the office range from the dread of wearing work clothes to long commutes. But maybe the most obvious reason is being overlooked: Do people believe anything has really changed if everything looks the same?
In offices around the world, organizations have adopted hybrid work policies, but haven't changed their offices to support the new realities of hybrid work. Some say they're waiting until employees are back in the office to make changes. But hybrid work means people will come and go at different times and, without changes, the office is often likely to feel empty and lack energy. After two years of isolation, who wants that? Hybrid work also means people will spend a lot more time on video calls, and will look for more privacy to meet with remote teammates. Or worse, they'll do video meetings in the open and become the hybrid version of the office loud talker.
Continuing reading on Steelcase's website here.
---
Back to News