The Future is Flexible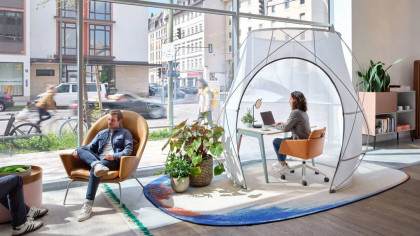 As people return to offices it's clear they will expect the same flexibility and autonomy they enjoyed while working from home.
But hybrid work is not just about giving people flexible schedules. Flexibility must also be built into the workplace itself to meet the evolving needs of hybrid work — which, according to our research and observations from around the world, is constant.
But there's a problem. Traditionally, most workplaces are designed to be more fixed than fluid and don't give people much control at all.
And when conditions change, such as when a pandemic hits or the way we work changes, spaces can't adapt easily.
But they need to for two reasons:
People expect more individual control, especially when they can't find places for focus work or video calls, which have exploded.
Organizations need the flexibility to quickly and easily make bigger changes to their space, as they try to figure out what types of spaces their people will need for hybrid work.
Continue reading on Steelcase's website here.
---
Back to News